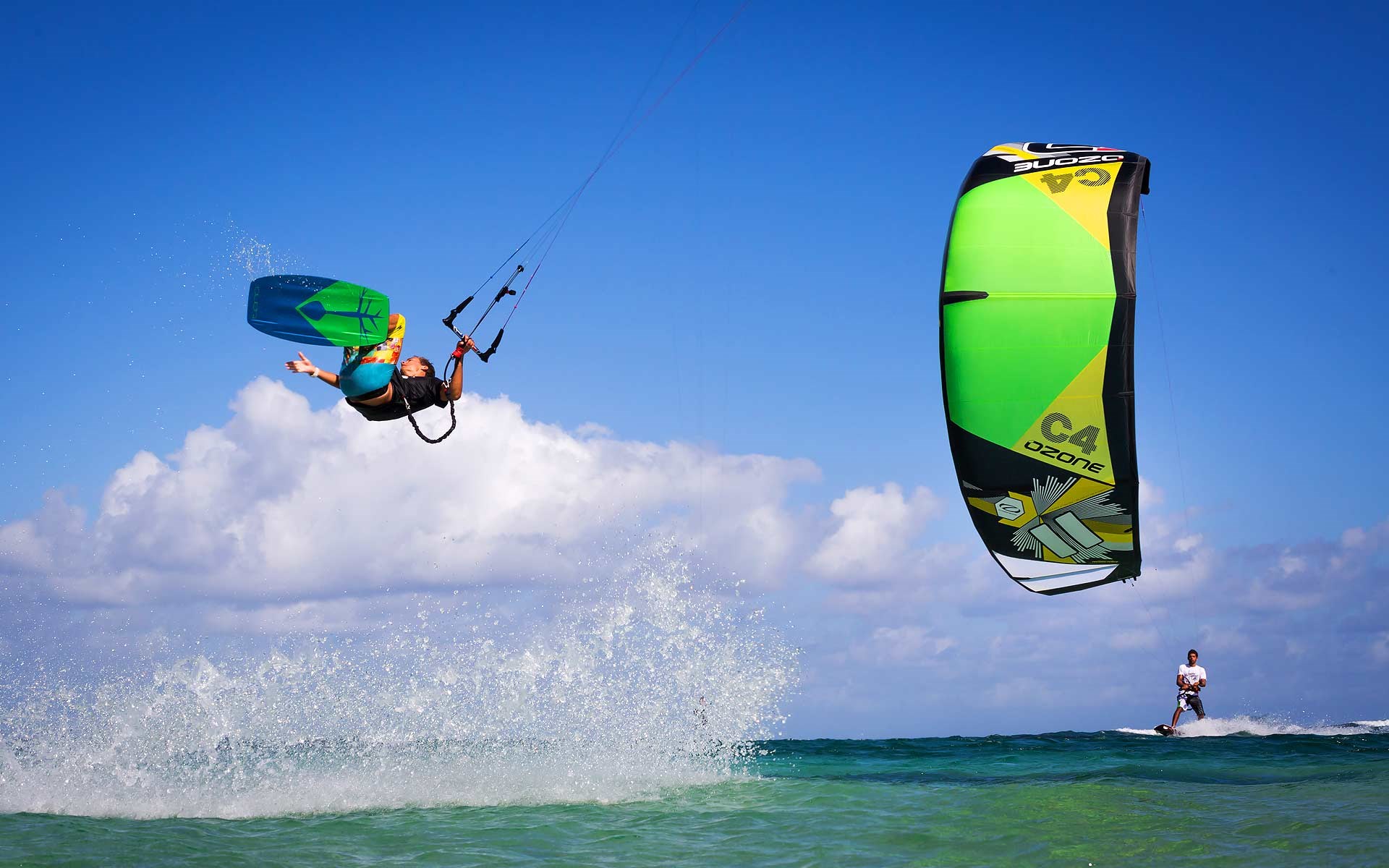 Ozone
Ozone kiteboarding finds its origin in the paragliders. From the paragliders it was a small step to producing kitesurf kites. Ozone started producing only foil kites but nowadays also has a large selection of Inflatable Leading Egde kitesurf kites such as the Ozone C4, Reo and legendary race and hangtime monster the Ozone Edge. All kites from Ozone kiteboarding are made in the Ozone factory in Vietnam. This gives Ozone a unique position and makes it possible to produce kites exactly as Ozone wants. On this page you can find the Kitemana range of Ozone kites. At the bottom of the page you can read more about the brand Ozone kiteboarding itself. If you have questions about an Ozone kite, board, or is the Ozone kiteboarding product not on this page? Then contact us via telephone, email or WhatsApp we are more than happy to help you. Read more. »
-19 - 5
de
25
Produits par page
Intro Ozone
Ozone kiteboarding finds its origin in the paragliders. From the paragliders it was a small step to producing kitesurf kites. Ozone started producing only foil kites but nowadays also has a large selection of Inflatable Leading Egde kitesurf kites such as the Ozone C4, Reo and legendary race and hangtime monster the Ozone Edge. All kites from Ozone kiteboarding are made in the Ozone factory in Vietnam. This gives Ozone a unique position and makes it possible to produce kites exactly as Ozone wants. On this page you can find the Kitemana range of Ozone kites. At the bottom of the page you can read more about the brand Ozone kiteboarding itself. If you have questions about an Ozone kite, board, or is the Ozone kiteboarding product not on this page? Then contact us via telephone, email or WhatsApp we are more than happy to help you. Read more. »
Buy Ozone kiteboarding online
You probably don't buy a new Ozone kite, board or bar from one day to the next. A kite is a big investment and of course you want to be well informed about that. On this page you can read everything about the kitesurfing brand Ozone kiteboarding: how did it originate, what is their mission and more. If you have more questions about the kitesurfing brand Ozone and the kitesurfing products from Ozone kiteboarding, you can always contact us by phone, email or WhatsApp. Via the menu below you can quickly navigate to:
Ozone kitesurf online kitesurfing shop
Ozone kiteboarding kitesurfing brand
Ozone is one of the market leaders in the world of producing and developing kitesurf kites, paragliders, para motors, speedwings land kites, snow kites and recently also wingsuits. Due to the development of so many different types of kites, Ozone has an unprecedented amount of knowledge and techniques about kites. And that is reflected in the kites that Ozone manages to produce. Ozone not only makes products for external consumers and kite surfers, but especially products that they, as kitesurfers and extreme athletes, find reliable and of a decent quality that they prefer to use every day. The development of the Ozone kites comes from an intrinsic passion with the entire Ozone team. It is the mission of Ozone kiteboarding to take the kitesurfing sport to a higher level with every new kite that Ozone brings out through technical innovation and intensive R & D. At Ozone the product is central.
The Ozone kiteboarding research and development team consists of people who are more than just a designer. They are kitesurfers themselves who, just like you, love nothing more than going on the water with the best kitesurf gear. This unique combination of experience and a link with design ensures that Ozone can transmit the perfection in the Ozone kites. It goes so far that Ozone kiteboarding talks about the 'Ozone feeling'. The feeling you have when flying an Ozone kite or Ozone board is indescribable.
Ozone kiteboarding development
Ozone was founded by a number of paragliders named Rob, Mike and David as paraglide brand in 1999. The first kite design from Ozone was a fun 4-line foil stunt kite meant to paraglide quickly and with a lot of power, called the Ozone LD Stunt kite . At that time, one of the Ozone founders, Rob, was already interested in kitesurfing and saw the potential growth opportunities of the sport. Before Ozone really focused on the kitesurfing sport, they decided to win the snow kitesurf market with the high-end foil kites. That went like crazy and soon Ozone came to the conclusion that they needed their own factory to produce all the Ozone kites in the high quality that Ozone sets for its products. In 2001 Ozone opens its own factory in Vietnam where they still produce their kites, including paragliders and kitesurf kites, to this day. An additional advantage of producing in your own factory that is completely under your own control is that you are not tied to production cycles of 4 to 6 months but that Ozone own improved kite only needs to produce when Ozone is completely satisfied. Over time, Ozone also started producing kites with an inflatable Leading Edg, some examples of which are the Ozone Egde, Catalyst, C4 and Reo. All for a specific kitesurf target.
One of the components of the Ozone brand that they are most proud of is the R & D department. All kites but also paragliders, in short, everything Ozone makes, is designed by highly experienced riders and instructors. And that has not been without result. Take for example Andy Yates, who became world champion kitesurfing in 2010 at the Ozone C4 and is still involved in the development of kites and boards. Besides the profit of the freestyle world championship, Ozone is actually the biggest in the racing branch of kitesurfing. This is because Ozone manages to develop kites that are extremely effective and stable. Within this race segment Ozone is always visible in the line-up for the race with various inflatable kites such as the Ozone Egde but also with foil kites including the Ozone Chrono and R1. And this is certainly not without merit after several victories in the race segment in both twintip and hydrfoil with Ozone kites.
Ozone kiteboarding kitesurf kiteshop
At Kitemana we have an extensive stock of Ozone kitesurfing materials. We have various Ozone kites such as the Edge, Enduro and Reo available from stock. Also for the Ozone kitesurf bars you have come to the right place. Is your favorite color or size Ozone kite just not in stock or is it not there in the webshop? Then we can always order your Ozone kitesurf product and deliver it quickly. Do you have questions about the Ozone kites, kiteboards or bars? Then you can always reach us by phone, email or WhatsApp for additional information.

Added to basket
| | |
| --- | --- |
| Sous-total | € 0,00 |
| Frais de livraison NL | € 6,95 |
| Total (incl 21% TVA) | € 6,95 |
Vous n'avez pas de produit(s) dans votre panier
---
Comment pouvons-nous vous aider?
Visitez notre service client pour obtenir des conseils