Kitesurf Beginners Guide
All you need to know about kites, kiteboards, wetsuits and harnesses and how to select your first setup! All the knowledge you need is provided below as well as product examples and complete sets. Need help finding the right kitesurf gear? Feel free to contact us!
What subject do you want to know more about?

Buying a kite
We help you as a beginner in making the right kite choice
Kites for beginners
You have just completed your first kitesurfing lessons and are completely stoked! You want to start right away and purchase your own kitesurfing kites so that you can independently improve your kitesurfing skills. But which kite should you buy? There is so much on offer. We understand it is difficult to make a choice. For this reason we try to answer the most common questions for a beginner:
What are the 4 important requirements every beginner kite should always meet?
In the beginning you want to make progress as quickly as possible. 4 important requirements for a beginner kite are:
A kite with good upwind abilities, so that you can easily sail close to the wind.
A kite with a large depower range, so that you can fine-tune the power of your kite.
An easy and fast relaunch, so you can easily launch your kite again if the kite hits the ground or water.
A kite with forgiving flying characteristics, so that you can control the kite with a little more confidence.
Which kite to buy as a beginner?
If you are completely stoked after your first lessons and you plan to invest in a new kite right away, we recommend an all-round/freeride kite (delta-shape or open C-shape kite) for a beginner.
Every brand has such a kite in its range. Examples of these kites are the Duotone Evo, Cabrinha Moto, North Reach, F-one Bandit and Naish Triad. These are kites that you can use for a longer period of time and are therefore also very suitable for when your level increases, you are looking for more challenges and you are ready to practice your first jumps.
The brands have put together special beginner sets with these kites as a basis. Checkout these affordable starter sets of the different brands right here.

Why Kitesurfing schools often teach with Waves kites
As a beginner kite surfer there are a number of types of kites that you can choose between. The easiest for a beginner are usually the wave kites. This is because these kites have super good depower, fast relaunch and are very forgiving. Examples of this are the Carbinha Drifter, North Carve, Airush Session and Duotone Neo.
These kites are often used by kitesurfing schools to teach. The large depower of these wave kites ensures that you can easily keep the kite under control when the wind increases. The quick relaunch is very nice when you have accidentally sent your kite into the water, which sometimes happens in the beginning, and want to get the kite back in the air quickly. And of course it is very nice if a kite is has good upwind properties, so you can easily return to the place where you started kitesurfing and you do not have to do the 'walk of shame'.
If you can buy - or borrow a neat second-hand wave kite, it would be a fine choice for a beginner kitesurfer. You can practice your water start and master riding upwind.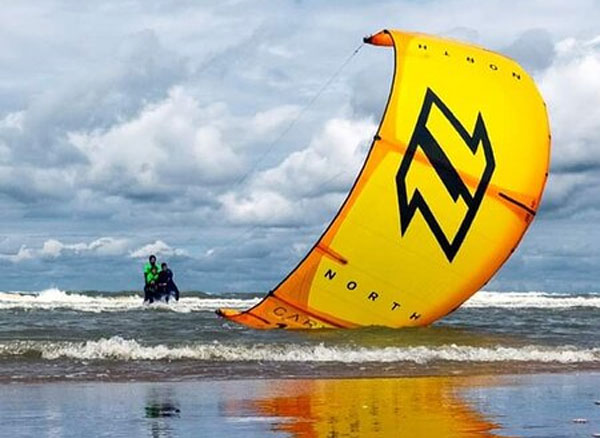 What size kite should I choose as a beginner?
Which size kite you should choose as a beginner depends on a number of things:
Your weight,
Your intended set of kites: 1, 2, 3 or even more?
The conditions of the spot where you kite (average wind speed, gusty etc.)
It is always recommended to start with the largest kite in your intended set of kites. This is because you can practice with your large kite in the easiest conditions. You will then need about a wind force 5 (17 – 21) knots to sail, the water is calm, the wind is stable and the weather is usually good too. For most kite surfers this will come out on a kite of between 9 and 12 square meters, depending on your weight. We advice to check with your kitesurfing instructor or aks us for a final advise.
Once you have mastered the basics with your first kite, you will automatically want to look at your second kite. Because you are addicted and don't want to miss a session and also want to be able to kite with more wind. You may already be ready to practice your first jumps.
When you have a set of 2 kites in mind, it is wise to have 3 square meters between both kites to have the largest possible wind range. So for example a 12 and 9 or a 10 and 7 square meters.
If you want to unpack right away and go for 3 kites, then you have the best set with 2 square meters between each kite: 12-10-8 or 11-9-7 square meters. Always go out from your largest kite and scale that down.
Beginner kite size

| Body weight | Kite size |
| --- | --- |
| 30 - 40 kg | 5 - 6 m2 |
| 40 - 50 kg | 6 - 7 m2 |
| 50 - 60 kg | 7 - 8 m2 |
| 60 - 70 kg | 8 - 9 m2 |
| 70 - 80 kg | 9 - 11 m2 |
| 80 - 90 kg | 10 - 12 m2 |
| 90 - 100 kg | 11 - 13 m2 |
| 100 - 110 kg | 12 - 14 m2 |
What size kitesurf bar do I need?
The size bar is less important than the size kite. Actually, any size bar of a relevant brand can be sailed on an associated kite of that brand. When a kitesurfing brand has different bar sizes, it can generally be assumed that you use the smaller bar for kites smaller than 10m² and the larger bar on kites of 10m² and larger. The larger bar ensures that you create more steering angle when steering the bar, so that you can steer a large kite faster and therefore feel less slow.
If you are going to use a bar from another brand on another kite, you have to pay attention to a number of things. For example, it is important that you know whether the bar has a high or low split of the power lines and that the kite you want to use it on is designed for that split. If you don't match that, don't use the bar on that kite, because that will make the kite lose all its characteristics. It is also important to know whether the ends of the bar and the kite can be attached to each other: the buttons and loops must match. If this does not match, you could also solve this with a pigtail set. A kitesurf bar that fits all kites is the Duotone Click bar. If you have any questions about your bar and whether it fits your kite, please contact us.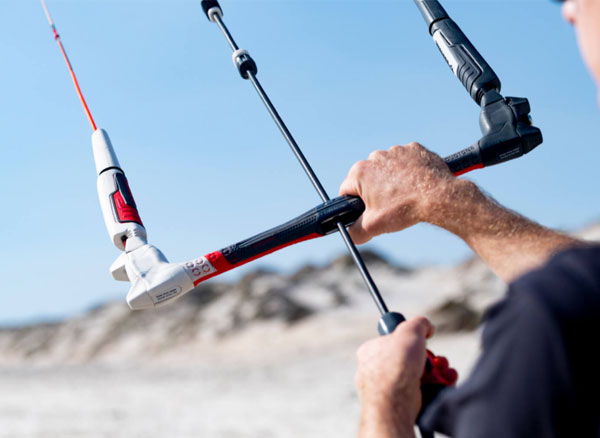 Do I need a long or short kitesurf leash?
When you start kitesurfing, it is best to use a short leash. You attach a short leash to the front of your harness. The moment you need the leash, it is always close by. When you have pulled the safety and the kite is only attached to your leash, you will be pulled facing the kite. This is in contrast to a long leash that you attach to the back of your harness. A long leash is only used by advanced kite surfers who do unhooked tricks such as handle passes. You as a starting kite surfer are best off with a short leash.
As a beginner, should I buy a new or second-hand kite?
Safety is the most important thing in our sport. Kitesurfing is and remains an extreme sport, it is therefore important that your kite is in good condition. A new kite meets the latest safety standards and the lines are in perfect condition, so a new kite is always the best and safest option. In addition, the canvas of a new kite is completely fresh so that the kite deals with the wind super effectively, so that you can steer more directly and experience a better low-end. This makes kitesurfing easier for you as a starting kitesurfer and therefore you will make faster progress. It is therefore recommended to start with new kitesurf gear. If you buy this in a set (kite, bar, board bindings) the purchase doesn't even differ much from a good second-hand. Check our kitesurf sets here.
Of course you can also buy a second-hand kite, but there are a number of things you have to take into account. It is better not to buy a kite that is older than six years. Kitesurfing is a young sport and every year new technologies are implemented in new kites, making them more efficient and safer. If you go back five years, kitesurfing was a different sport. The industry has made many improvements in safety systems and materials used. So keep this in mind.
It is also very important to check a used kite for any repairs or damage. A single repair, if performed by a professional repairer, should not be a problem. A heavily repaired kite can become unbalanced, making the kite unstable and unsafe. If you are looking for a used kite on the internet, you can see many cheap kites. Be careful of buying kites that are too cheap. Cheap is often expensive. These kites are often less suitable for beginners and can be dangerous due to very old safety systems, poor relaunch and outdated technologies.
Never buy a C-kite as a beginner. C-Kites are kites that are almost only used by pro kite surfers, because they give you a very powerful and precise kite. The downside of a C kite is that a mistake is made quickly and this can lead to a dangerous situation.
If you are a beginner and need a completely new kite surfing set including kite, bar, kiteboard and bindings, we have made a number of brand specific starter sets with a very nice discount. A good discounted set sometimes almost corresponds to the price of a good quality second-hand kite surfing set.
If your budget is not sufficient for a new set, you can always contact us to see if we might have a good quality second-hand kite available for you.
Is there a safety standard for kites
There is no safety standard for kites yet. There is, however, a safety standard for the safety system on the bar: the quick release system. The latest quick release systems will be provided with ISO 21853 from 2021. If your quick release system meets this ISO standard, you can be sure that your quick release will work under the most extreme conditions. So that you can go out on the water with peace of mind and enjoy this great sport.
How do I maintain my kite?
Your kite actually does not need much maintenance. It is especially important that you do not clean up your kite wet. It can of course happen that you have to clean up your kite wet because it is raining. After that, make sure you let your kite dry as soon as possible. If you don't do this, there is a chance that mold will get into the canvas of your kite.
Now that you know everything about choosing your first kites, you are ready to make your choice!
If you have any questions, you can of course always call, email, WhatsApp or visit our store in Noordwijk!
Ajouté au panier
| | |
| --- | --- |
| Sous-total | € 0,00 |
| Frais de livraison NL | € 0,00 |
| Total (incl 21% TVA) | € 0,00 |
Vous n'avez pas de produit(s) dans votre panier
---
Comment pouvons-nous vous aider?
Visitez notre service client pour obtenir des conseils